By Contributing Writer Krista Walker, Principal Broker REMAX Platinum Real Estate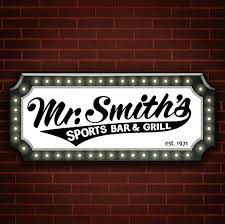 This month's restaurant review is an easy one – Mr. Smith's. If you don't already know and have not been there yet, then you really are not a resident of the Medford area. Mr. Smith's is a classic, with over 40 years of the same ownership at the same location. I think the menu hasn't changed much either over the years, and that is a good thing.
Do you like burgers? Well, I don't like burgers that much so the suggestion we go to Mr. Smith's, home of the "Big Ass Burger," did not excite me, but my two lunch mates said "Krista, get over it." "Their burgers are good," they said, so I went. I was not disappointed. I devoured my meal and was very satisfied.
I had the classic cheeseburger, and my friends had the "Big Ass Burger" with the works on lettuce instead of a bun. (BTW, they are not girls.) As you can imagine Mr. Smith's has a bunch of choices on burgers – cheeses, bacon, etc. I think I counted about eight types. They also have sandwiches, salads, and appetizers, so there are other choices. But why? They have daily specials and a Sunday brunch special.
Another odd item, but for the southern at heart, they have fried chicken gizzards. I did not try these, but I bet they are good. They have hot dogs and fish & chips. They have a full bar and a good variety of about 12 beers on tap.
You have the choice of sides with your burgers and sandwiches. Dane's potato salad is …maybe not world famous, but Rogue Valley famous, and probably first choice for most people to eat, but you can also choose fries, salad, soup, or chips.
The memorabilia around the room are fun to look at, but if you are bored with your companions, you can watch TV while nodding to what they say.
Don't resist and persist…. Go and eat a burger!