DMA is thrilled to congratulate MPD and share this City of Medford press release:
"One of only five cities in Oregon to be awarded a Community Oriented Police Services (COPS) grant from the U.S. Department of Justice (DOJ), the Medford Police Department will receive $375,000 to assist with a portion of the cost to hire three new Livability Team Officers.
The Livability Team focuses on addressing livability issues throughout Medford. The team does this by building relationships with unhoused individuals and chronic nuisance criminal offenders and connecting them to local service providers as well as opportunities for shelter and housing.
"The addition of three more officers to our Livability Team will improve our ability to engage with the community and continue our efforts with local service providers to connect individuals to services and resources they need," said Deputy Chief of Police, Trevor Arnold.
The funding from this grant will help cover a portion of the cost for the initial three years of employment for three new officers. The remaining three-year cost will be funded through American Rescue Plan Act (ARPA) funds, which was approved by the Medford City Council earlier this year. "Using police officers in this capacity has proven to be effective for our community. Not being restricted to reactive police work provides an avenue for real change in the lives of our vulnerable, chronically homeless community," said Arnold.
The 2022 COPS Community Hiring Program is a competitive grant program designed to provide funding directly to law enforcement agencies to hire and/or rehire additional career law enforcement officers in an effort to increase their community policing capacity and crime prevention efforts. Anticipated outcomes of the CHP program awards include engagement in planned community partnerships, implementation of projects to analyze and assess problems, implementation of changes to personnel and agency management in support of community policing, and increased capacity of agency to engage in community policing activities."
---
In addition to the COPS Grant, the City of Medford received another $1 million from the American Rescue Plan Act to expand Livability Team service. A total of six officers, up from the current three in the Livability Team, will allow MPD to run two shifts a day to deal with issues that have plagued downtown merchants. The additional money will allow for officers to patrol during the swing shift. The exact schedule for the additional officers, who will receive training and equipment to patrol the downtown, is still being worked out.
Even with only the current Livability Team coverage in Downtown Medford, the Team has been making a big impact. RJ Josephson has been working as the Downtown Corporal since September 18, and during the time period from September 18 – December 24, 2022, "we have seen a 31.4% decrease in dispatched calls from the downtown area," said DJ Graham, MPD Deputy Chief of Operations.
Just think of the further improvement the added MPD Livability Team members will make!
Annie Jenkins, interim DMA Executive Director, said "the Livability Team has helped out significantly and is much appreciated by downtown merchants. They're working with everybody and getting to know the merchants. Every little bit helps control the atmosphere and make Downtown Medford a warm and comfortable place."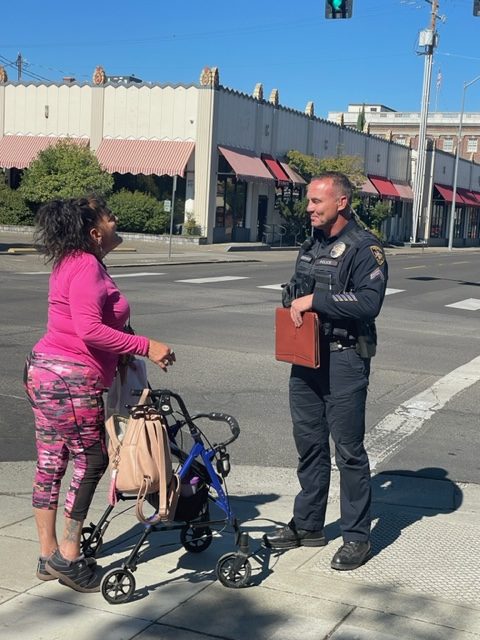 RJ Josephson talks to "one of the Livability Team's success stories." The Livability Team connected this former homeless woman to services that helped her get mental health treatment and eventually into permanent housing.