By Contributing Writer Krista Walker, Principal Broker REMAX Platinum Real Estate
In the words of the owners of Melange: Melange Eatery is a plant-based restaurant inspired by global flavors. The restaurant is tucked away in the basement of the Main Street Market building under Jefferson Spirits and Pomodori. They offer a casual lounge area for hanging out and enjoying a tea and dessert, or intimate tables for sharing delicious plant-based meals. Melange is open for lunch/afternoon weekday meals and they offer private dining for parties.  They also have cooking classes.
The owners are Gia Radoias from Romania and Brian Igarta from Maui. Brian was classically trained in French and Japanese culinary techniques. The menu reflects their skills and personalities. It is hard to create unique tasty plant-based foods, but the owners have figured it out.
I ordered a vegetarian sushi roll for an appetizer.  It was very good and definitely Japanese.  I also ordered a French-inspired main meal.  Instead of Chicken ala King, it was La King Encroute.  What may you ask is that?  Normally made with chicken, the chicken was replaced with chick(en) peas and mushrooms in a white sauce and served on a very light and fluffy puff pastry (one of the few dishes with wheat). The pastry was super light and flaky – definitely French. It came with a crunchy light salad to balance the comfort food.
The menu has Rawsome entrees – a burger, spaghetti, tacos, and salads. Basically, these dishes are raw non-meat food, but prepared to be tasty and satisfying. My lunch mate had gluten-free and dairy-free spaghetti. The noodles were made of zucchini and the sauce was a mix of marinara and garlic, cashew, and basil pesto. Very yummy, filling, and best of all, guilt free. Lots of "frees" in this paragraph!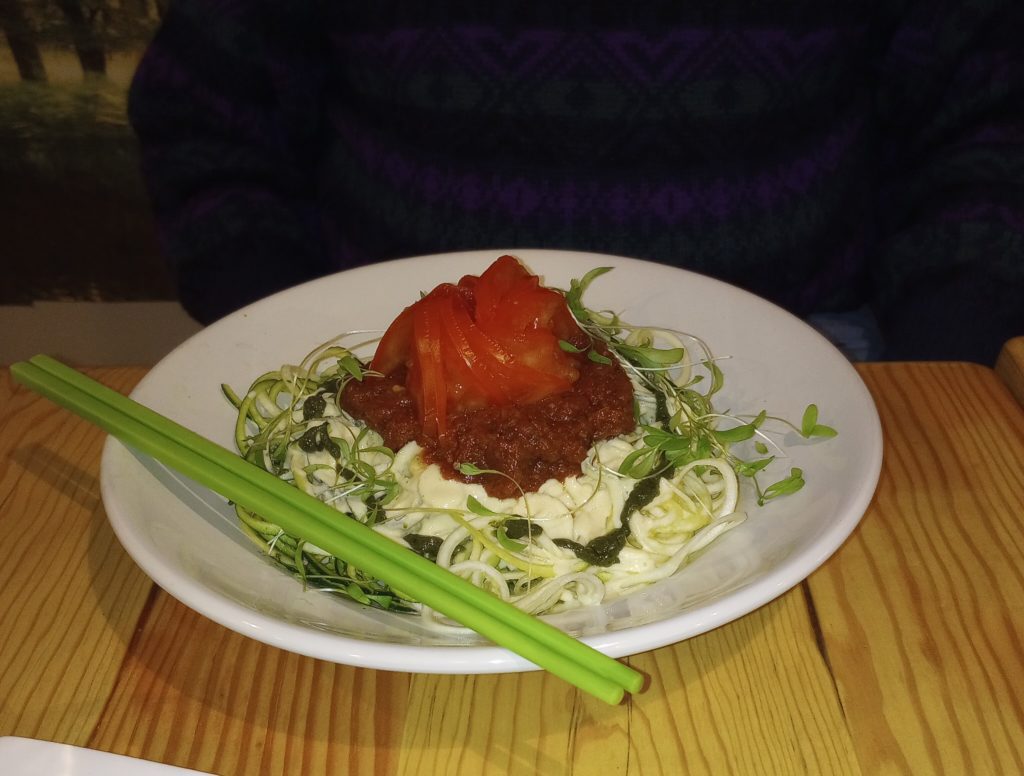 Some of their other main dishes are Spinach Mushroom Crepes, Lasgana, Maui-style Tacos, and Soba Noodle Stir-fry. There are three different bowls to choose from: Bi Bim Bop Bowl (lots of veggies), Thai Bowl (yellow curry flavored), and the Autumn Bowl (black eyed pea based dish).
For appetizers besides sushi, there are gyozas, "scallops," artichoke dip, rice paper rolls, and Dubu Jorim (braised tofu served hot smothered in a rich Korean red pepper sauce).
Fresh custom-made desserts, fresh juices, and teas are all available to round out your meal at Melange.
Menus and more information is available on Google, Instagram, and Facebook
Address: 406 East Main Street, Lower Level (Parking available in lot next to 410 East Main)
Phone: 541-500-1063