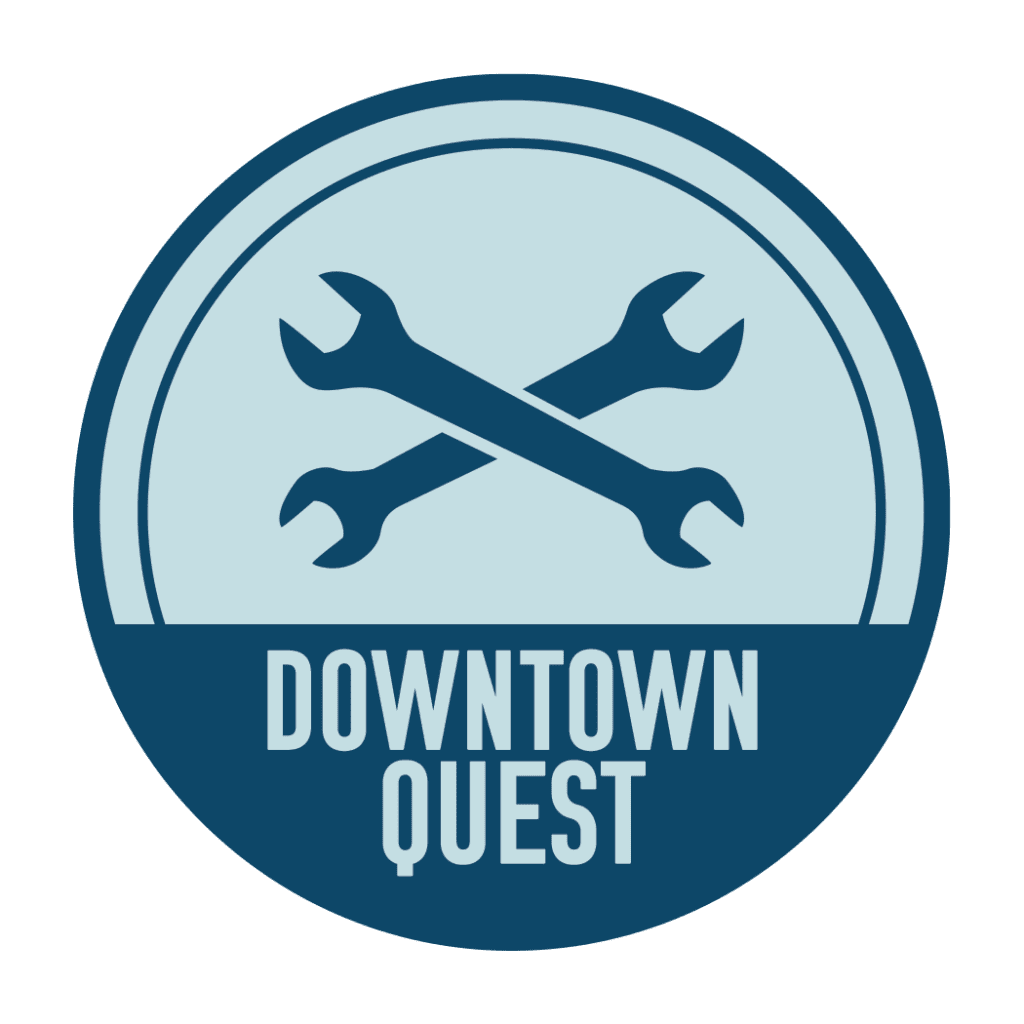 Celebrate the Small Business Saturday with the Downtown Quest. Exlpore and support your shops in downtown.
STEP 1 | Pickup your Downtown Quest card at the Medford Library or one of the participating local business listed below.
STEP 2 | Visit five (5) participating businesses and have your Downtown Quest card stamped. No purchase necessary.
STEP 3 | Turn in your completed Downtown Quest Card at the Medford Library by 6pm on December 4, 2023 and receive a coupon for the Friends Bookstore. All completed cards will be entered in a raffle to receive prizes from downtown businesses.
---
ARTISTIC PIANO LTD | 112 W Main St
Mon-Fri: 10am – 6pm | Sat: 10am – 2pm | Sun: Closed
Starting Nov 1 through January 2/24 Artistic Piano will be offering a very special financing promotion which will feature 18 months at 0% APR on all new Yamaha pianos, including grand pianos, upright pianos, Disklavier player pianos, Silent pianos, Hybrid pianos, and Digital pianos! Special discounts will also apply to all Yamaha band & orchestra instruments.
—
BEERWORKS | 323 E Main St
Mon-Thurs, Sun: 1pm – 9pm | Fri-Sat: 12pm – 11pm
—
THE BROW PARLOUR | 24 N Bartlett St
Sun-Mon: Closed | Tues-Sat: 10am – 5pm
—
BUMBLE & WREN | 231 E Main St
Mon-Sat: 10am – 5pm | Sun: 10am – 2pm
—
CENTRAL ART SUPPLY | 101 N Central Ave
Mon-Fri: 10am – 6pm | Sat: 10am – 5pm | Sun: Closed
We invite you to share the exciting specials and promotions that you will be offering during Downtown Medford's Shop Small Business Week. Whether it's discounts, exclusive deals, limited-time offers, or any other unique promotions, please provide a brief description of each along with their start and end dates. This information will be showcased on our event website and in our promotional materials.
"Set Up for the Season at Central Art" Holiday Sale! 11/1/23-12/23/23. Over 1,000 Art Gift-Giving Ideas for All Artists! Kid to Adult, Beginner to Professional, We've Got It All!
"Special Holiday Wrap Up Event" Thanksgiving Weekend 11/24/23-11/25/23 with exclusive two-day only deals, Gift Wrapping Station, and more!
—
CRUNCH TIME WRECK AND ESCAPE ROOMS | 230 E Main St
Mon-Tues: Closed | Wed-Thurs: 11am – 6pm | Fri-Sat: 11am – 8pm | Sun: 11am – 5pm
Offering 10% off any items bought in store, whether they are breaking add-ons or Save from the Smash Items, and 15% off bookings made in store. We will also be offering a discount Code: SHOPSMALL, which can be used that week to have 10% off of bookings made that week.
—
DANCING BEADS | 121 E Sixth St
Sun-Mon: Closed | Tues-Sat: 11am – 4pm
—
HEN & FLOUR | 141 S Central Ave
Tues-Sat: 11am – 5pm | Sun-Mon: Closed
—
HOLLIDAY JEWELRY | 2 N Central Ave
Tues-Fri: 10am – 5:30pm | Sat: 10am – 5pm | Sun-Mon: Closed
—
HOPE COLLECTIVE | 16 S Bartlett St
Mon-Wed: Closed | Thurs-Fri: 11am – 3pm; 4pm – 7pm | Sat: 9am – 4pm | Sun: 9am – 2pm
—
JOHNNY B's | 120 E Sixth St
Sun-Mon: Closed | Tues-Thurs: 7pm – 12am | Fri-Sat: 7pm – 1:30am
—
LUNCHEONETTE | 33 N Central Ave
Sat-Mon: Closed | Tues-Fri: 11am – 3pm
A free house baked dessert (cookie, cake or pastry) with purchase of any sandwich.
We will only be open on 11-21 (Tues) of Thanksgiving week.
—
MARSH MCLENNAN AGENCY | 38 N Central Ave Ste 100
Mon-Fri: 8am – 5pm | Sat-Sun: Closed
—
MEDFORD LIBRARY FRIENDS BOOK SHOP | 205 S Central Ave
Mon-Fri: 11am – 3pm | Sat: 12pm – 2pm | Sun: Closed
—
MOON BEES WELLNESS | 235 E Main St
Hours vary; visit moonbeeswellness.com
Experience the enchantment of the season with our exclusive Witchmas bundle, and it's yours FREE!
What's inside the Moon Bees Witchmas Bundle?
Mini Desert Sage Bundle for cleansing and purification.
'Soul' Beeswax Taper Candles from Lit Rituals to light up your soul.
A precious piece of Green Jasper for grounding and prosperity.
All this can be yours when you spend $100 or more at Moon Bees, whether you visit our boutique or schedule a session. This magical offer lasts until December 31st, 2023, or while supplies last. Don't let the season end without adding a touch of mystic wonder to your life.
—
ONYX & IVORY BEAUTY COLLECTIVE | 311 N Bartlett St
Sun: 10am – 2pm | Mon, Wed-Fri: 10am – 6pm| Tues: 9:30am – 7pm | Sat: 11am – 4pm
—
REFASHION CONSIGNMENT BOUTIQUE | 220 E Main St
Tues-Sat: 10am – 5pm | Sun-Mon: Closed
Offer 20% off during Nov 20 – Dec 4
—
THE RETROWORMHOLE | 30 N Central Ave
Wed-Sat: 11am – 6pm | Sun-Mon: Closed
Special Offers | All Funko products 20% to 50% off now through the end of November!
Come kick off the holiday season and celebrate Independent Record Store Record Sale Day this Black
Friday & Small Business Saturday | The RetroWormhole located at 30 N. Central Ave in Downtown Medford with
20% off all records, tapes, and cd's | hundreds of new rare and hard to find LP pressings at event specific pricing!
And that's not all! Save
30% to 50% off all pre-owned movies | 20% to 50% off all Funko brand products | 10% off all video games and Pokémon trading cards
Terms & Conditions: Cannot be combined with any other discounts or promotions. Sold out event specific music titles are available for reorder at sale day prices but subject to availability.
— 
ROGUE CITY COMICS | 32 N Central Ave
Wed-Fri: 11am – 6pm | Sat: 10am – 4pm | Sun-Tues: Closed
 —
ROGUE GALLERY & ART CENTER | 40 S Bartlett St
Tues-Fri: 10am – 5pm | Sat: 11am – 3pm | Sun-Mon: Closed
Local handmade unique gifts, a large assortment of cards, beautiful jewelry, and lots of art!
— 
ROGUE WEAR | 307 N Bartlett Ave
Tues-Sat: 10am – 4pm | Sun-Mon: Closed
Small Business Saturday 11/25 10am-4pm | Hot chocolate bar, wreath or swag making station, special $15 crew neck sweatshirt as well as other discounts throughout store, free holiday wrapping paper or ornament with every purchase (while supplies last).
 
Tree Lighting Ceremony 12/2 4:30pm-8pm | While visiting the Medford Tree Lighting Ceremony, stop by to roast your own s'more, shop new arrivals & score some deals ranging up to 50% off select items and apparel.
 —
SCRUB HUB | 20 S Fir St
Mon-Fri: 10am – 6pm | Sat: 11am – 4pm | Sun: Closed
Small Business Saturday Annual Sock Sale | Purchase two pairs of compression socks and get the third FREE!
Compression socks are for everyone!
Benefits include | Increasing circulation and blood flow in your legs | Decreasing swelling in your legs and ankles | Preventing blood from pooling in your veins | Preventing blood clots | Improving lymphatic drainage | Helping reduce pain and discomfort
— 
SHREEVE INSURANCE | 107 E Main St Ste 7
Mon-Fri 10am – 4pm
Shreeve Insurance will be participating in Shop Small Business Week by offering fresh coffee, goodies, tours of the Goldy Building and collecting unwrapped toys for Jackson County Toys for Tots. (Our hours will be Monday – Friday, 10 AM – 4 PM.)
 —
SOLID GROUND COFFEE | 217 E Main St
Mon-Fri: 7am-5pm | Sat: 9am – 2pm | Sun: Closed