By Contributing Writer Krista Walker
Principal Broker ReMax Platinum Real Estate
I admit; I am partial. Shiki is and has been my favorite Asian/Thai restaurant in Medford for the last few years. They do a great job of blending traditional and creative Asian flavors with freshness in their food dishes. After I eat one of their delicious meals, I feel full and satisfied, and my husband, who has food allergies, feels great. That alone makes any place a winner for me.
They have a large sushi menu and daily specials. I tried a special – all the best taste sensations in one bite – sweet, salty, crunchy, sour, and umami. Unfortunately for me, I had to share that dish with my other two diners who originally said they didn't want to share. I call "unfair" on that move. There are pages of sushi choices and too many to list, so I suggest you just start ordering and trying them out.
I made up for my sushi losses by ordering my favorite entree dish – Japanese Eggplant. The entrée is made with thin sliced small eggplant, other veggies, chicken (or other meat), and a light teriyaki-based sauce served over rice.  Entrees come with miso soup or house salad. BTW, their dinner salad is great!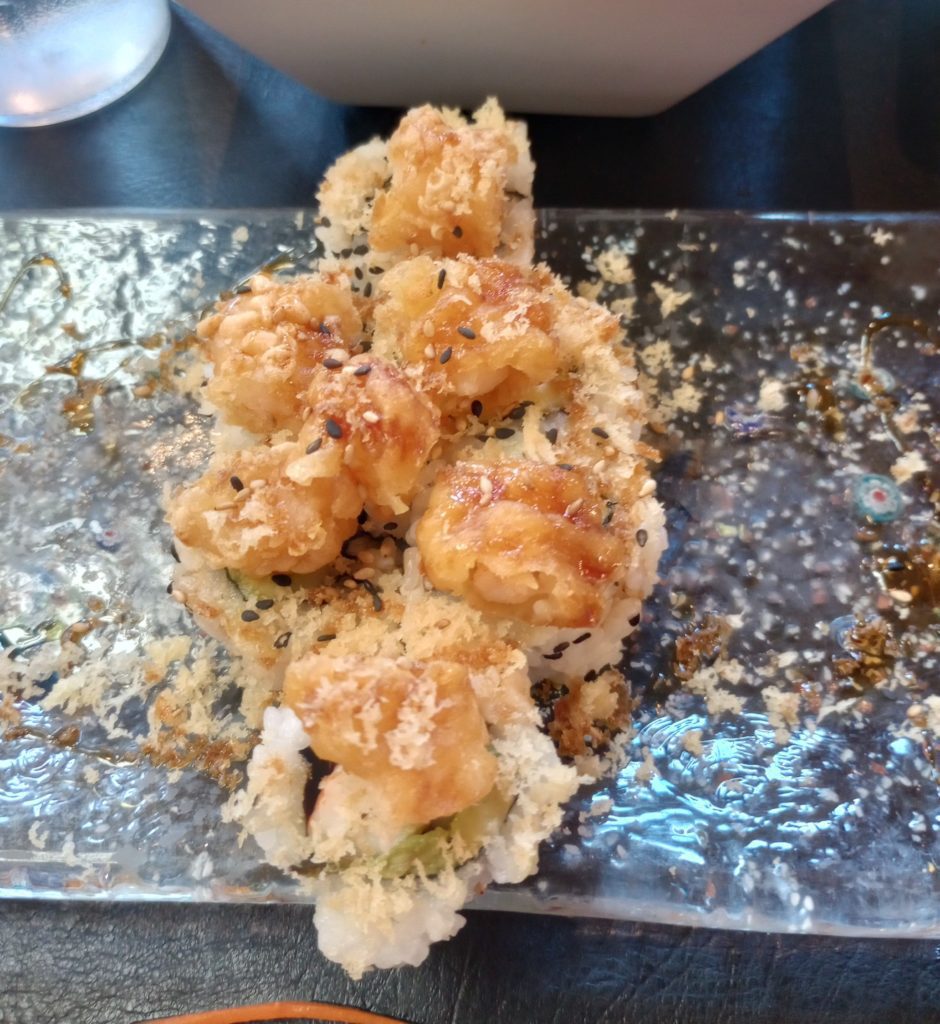 My husband had his favorite, which is yellow curry. The coconut-based sauce is neither too heavy nor too spicy. If you are afraid to try curry, this one is a good choice to break you in.
There are other Thai dishes such as Pad Thai, Spicy Green Beans, Mixed Vegetables in Peanut Sauce, and more. For Korean infusion you can choose Korean ribs (Kalbi) or Bibimbop (love that name). There are two duck choices, Chicken or Pork Katsu (like a cutlet), Teriyaki or Orange Chicken, and Salmon Curry. All are served with rice, and miso soup or salad.
Shiki has a kids menu, a full bar with a great selection of wine, beers, and spirits, and a pool table for fun and more fun.
The bottom line is…Shiki is a place everyone will like and the atmosphere with all of the Japanese lanterns is delightful.
Shiki is located at 17 W 4h Street. They open at noon Tuesday-Saturday and close at 9pm on weekdays and at midnight on Friday and Saturday.
Call 541-779-8831 or visit their website.