Close to 200 concerned people came out to the 6:30 pm Community Safety Meeting held by Medford Police Department and Downtown Medford Association on Wednesday, April 19, in the Prescott Room at MPD. People filled the chairs, stood along the walls, sat on the floor, and spilled out into the hallway.
Ongoing concerns about safety and well-being of merchants and community members in downtown prompted DMA and MPD to organize the meeting. Concerns ranged from criminal activity to drug use and property damage, to people sleeping in front of businesses and leaving debris and human waste, etc. The meeting was held to provide a forum for concerns to be voiced and for MPD officials to update local business owners and citizens on work being done to improve safety in downtown.
MPD Deputy Chief DJ Graham told the crowd of concerned citizens about problems, progress, obstacles, and plans for future improvement. He indicated that some progress was being made citing that between September 2022 and March 2023, police filed criminal charges against 472 people and issued 52 non-criminal citations in the downtown area. They also wrote 63 exclusion ordinances banning individuals from certain areas due to bad behavior, and made 83 arrests of individuals with outstanding warrants.
MPD plans to expand downtown service by expanding the Livability Team to include two Livability Team Downtown Officers and a Downtown Community Service Officer covering expanded hours. School Resource Officers will also be working with the Livability Team during the summer. They also plan to increase connections to resources to make even more connections than the 1,867 made during 2022.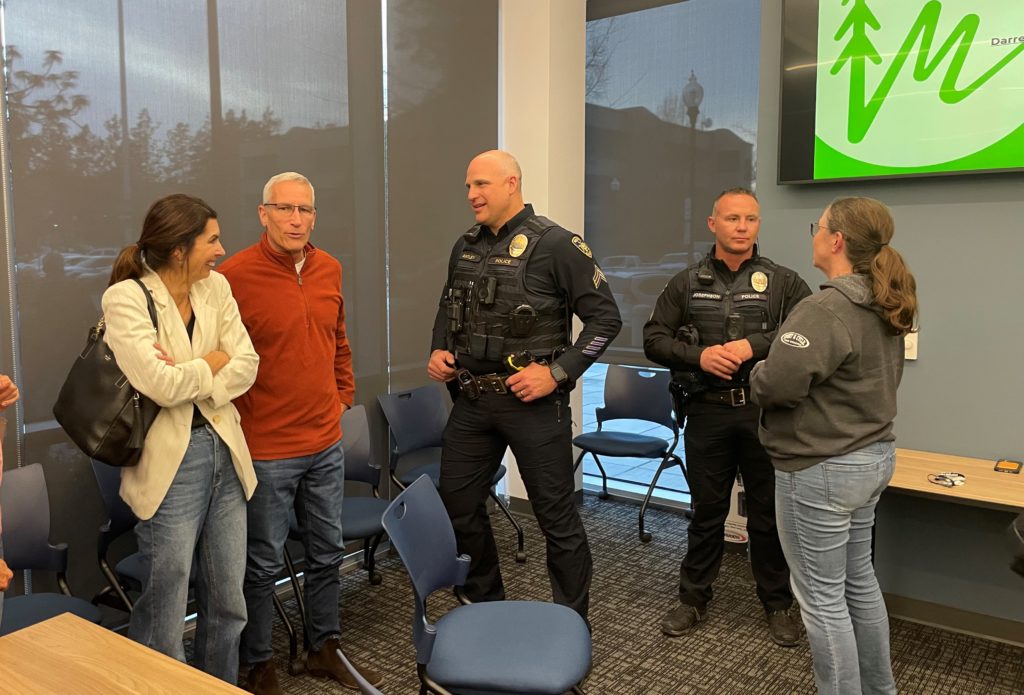 MPD and Downtown Medford face many challenges to their quest for safety and well-being in downtown as outlined by Graham. Those challenges include homelessness, legislative and judicial restrictions like Measure 110, hiring and training additional officers, and lack of jail space.
After Graham's presentation, Annie Jenkins, DMA Interim Executive Director, and EJ McManus, DMA Board President, solicited comments and questions from attendees.
Among those expressing concerns and opinions:
Meghan DeAngelo, owner of Lotus Hair Body and Soul Salon, who said she had experienced broken windows, attempted break-ins, and was nearly stabbed by a homeless person.
Brandy Paris, who said patrons felt unsafe at the downtown library and people could not use our parks because there are needles everywhere.
Todd Kirkendol, owner of Northwest Defense Contracting, who said he had signed a contract with the Medford Library, as well as several downtown businesses, to provide security.
Eugene Meyerding, who said homeless people were disrespecting our community without consequences.
To sum things up, Graham urged people to engage with the downtown officers, call when help is needed, report all incidents, and speak out to elected officials at the city, county, and state levels.  He commented, "We ended up with a really good turnout. I'm really hopeful there will be some people willing to stand up and help. This is an issue that goes way beyond the police department."
MPD is here to help keep our downtown safe and clean. Call them in case of emergency!  Call them in case of a non-emergency incident!  Report vandalism and graffiti! Engage with the Livability Team! Here is how: