Do you want beautiful eyebrows and long, thick eyelashes?
They can be yours, along with semi-permanent eyeliner, lip color, waxing, and more at the Brow Parlour.
The Brow Parlour opened October 2 at 24 N Bartlett. Katie Moxley is the owner/esthetician. Katie has over 12 years of experience in the industry, specializing in microblading, lash extensions, saline removal, lip blush, and eyeliner.
While the Brow Parlour has its own private salon, it will be sharing the larger space with Em'z Blendz Soap Company, which has been in Ashland and will be opening soon in Downtown Medford. Em'z Blendz is owned by Andy and Emily Whitlock. Andy is Katie's brother and he makes a lot of the products that Katie uses.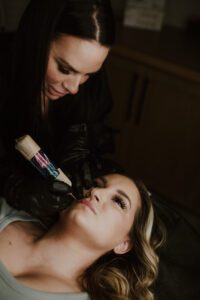 Why did Katie choose this lovely downtown location for her salon? "It was a salon previously and having the parking garage near helps with parking. I grew up here and I love to see Medford growing and becoming a fun little downtown again with stores and restaurants and people walking around," said Katie.
You can find The Brow Parlour on Instagram, Facebook, and Styleseat. To schedule an appointment, Call Chevone at 541-499-1274.