By Contributing Writer Krista Walker,
Principal Broker REMAX Platinum Real Estate

As Fleetwood Mac sings… "And you see your gypsy, You see your gypsy." Well, you can go see your gypsy at the Gypsy Blues Bar at their new location at 111 S. Grape. You first walk up to their private outdoor seating area with a firepit, but before you get too comfortable, you might want to go inside and check out their large indoor seating. All tables have a view of their bar and 31 taps to choose from!
It took me a while to figure out what drink to order…until I saw they had Framboise on tap. End of story! Sign me up and bring it on! My dining friend ordered a PBR in a can. I was a little confused when he could have had a draft, but to each their own. We went for lunch, but happy hour is from 4 to 6 pm.
By the time you read this, they will be open for Sunday brunch with Mimosas and a Bloody Mary bar. I can totally picture enjoying the food and Mimosas sitting outside. Like in a Sunday fantasy way.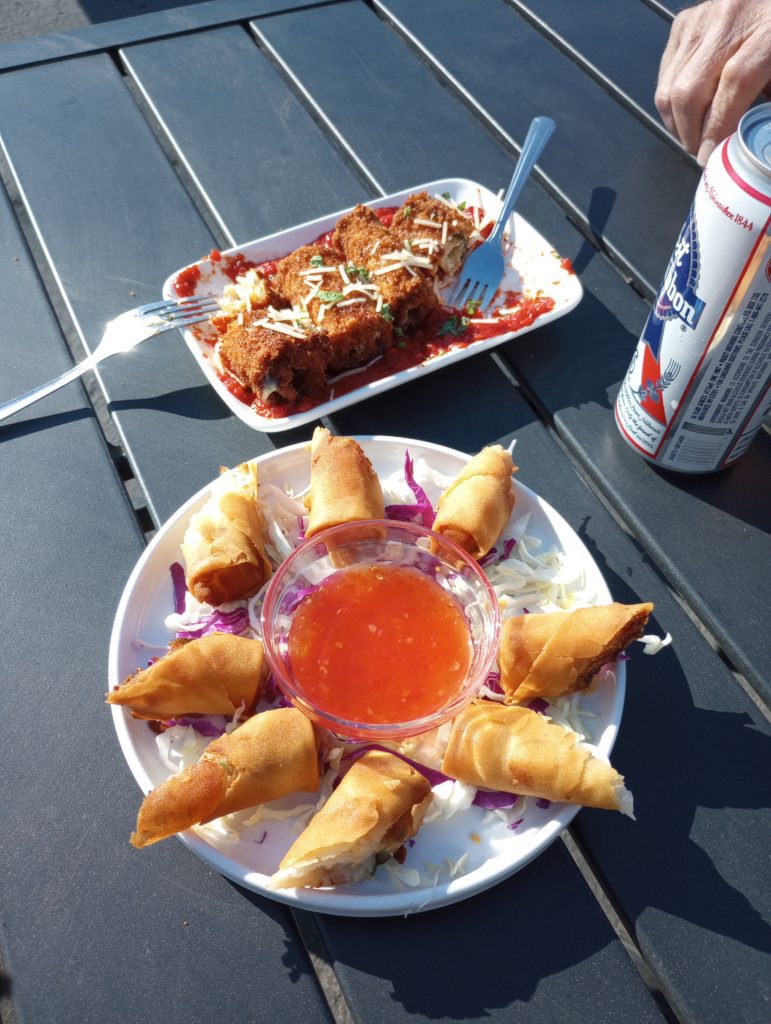 It is a pub-style menu, but they have their own twists on the food. For example -the Hawaiianini is a Black Forest ham, Swiss cheese, bacon bits, cream cheese and pineapple panini. Their Mexican Dog features bacon, jalapenos, cheddar jack cheese, onion, and is drizzled with ketchup, mustard, and mayo – sour cream available on request.
I tried two appetizers. The Lasagna Bites are mini cheese and spinach lasagnas, rolled up, and deep fried, served with marinara. They were tasty and shareable. I also had the Vegetable Fresh Rolls with chili sauce, which were crunchy and yummy.
Richard, my PBR dining mate, had a club sandwich. I should say he had a half a club sandwich because it was so large, he could only eat one half. He said it was really good, and I believed him. He took the rest home for dinner. Most meals, like his are served with a choice of tots, salad, or fries. The tots come served in a cute little basket that made me fondly remember my Easy Bake Oven.
There are also salads, soups, burgers, wraps, and more, so remember to see your gypsy today!