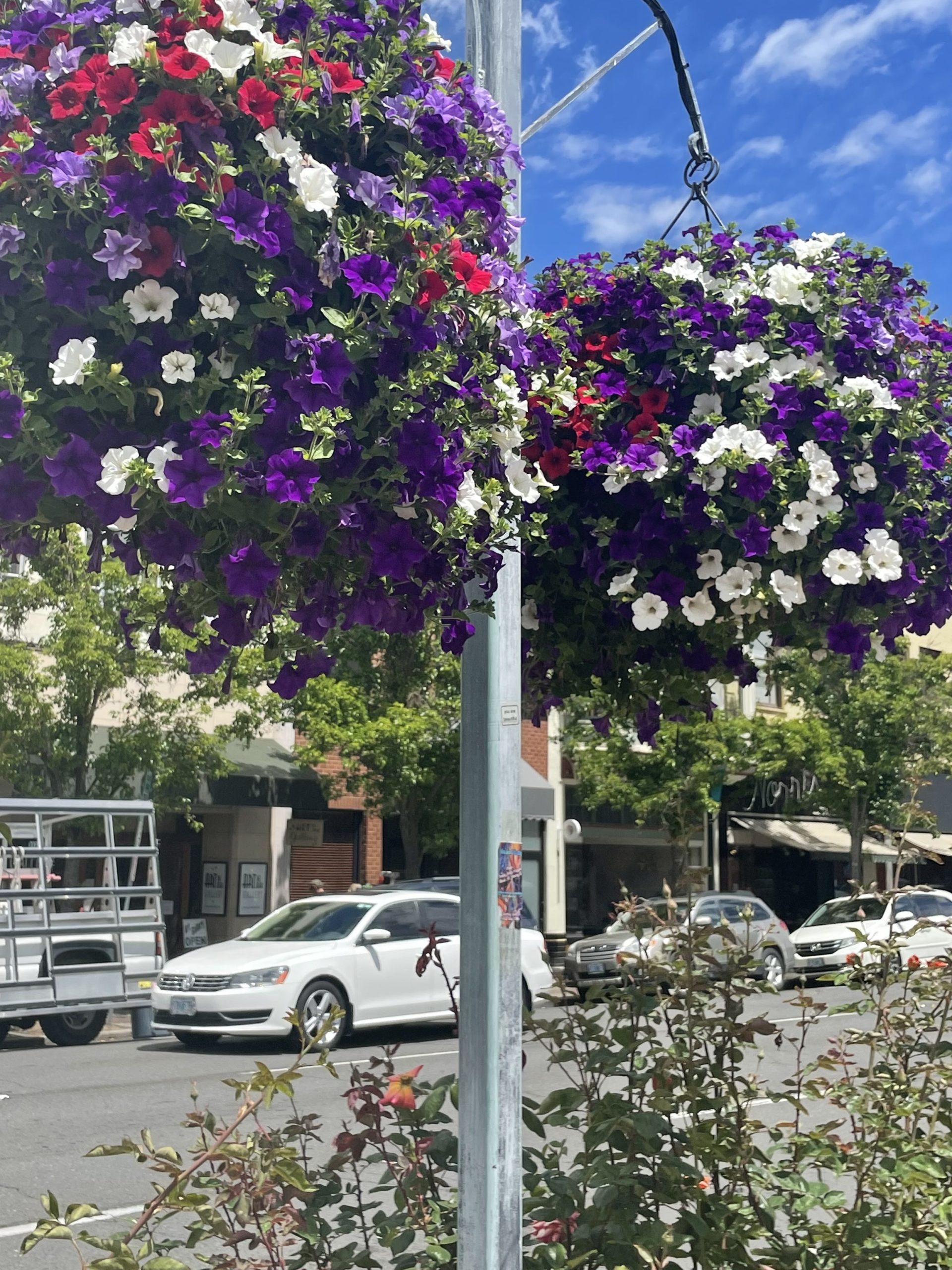 We Love Our Hanging Baskets
Even in the dead of winter, there's always the promise of Spring –a celebration of all the beautiful things to look forward to after the cold of winter melts away and Spring brings us new life…
Every year the Downtown community comes together to make our Downtown Medford memorable to visitors and community members alike. Spring Hanging Baskets adorn Main Street and Central Avenue along with a few side streets and Pear Blossom Park from May through October and Holiday Lights shine from November through February. Last year YOU tied our 2021 record with your combined order of 120 baskets.
DMA is seeking your participation again this year. Help us keep the tradition alive and buy your baskets today!
As you know, each year we have a deadline to meet in order for Four Seasons Nursery to get our baskets done in time. This year all orders and payments are due no later than February 20, 2023.
Basket price is $375 per basket (pays for planting, hanging, and watering the baskets).
You can buy your baskets with
or Payment by Check:
Mail you payment to DMA
406 E Main Street, Ste B
Medford, OR 97501
This effort is brought to you by your Downtown Medford Association & Community Supporters, as we continue to work toward a more vibrant downtown. Cities with Hanging Basket programs report a greater enhanced image and improved downtowns over time. Beautification efforts renew pride and care for their city and increase residents' fondness increasing positive expression of their downtowns. Please help us do this and continue the positive feelings about our Downtown.

We again thank our 2022 CONTRIBUTORS. We urge them to contribute again in 2023 and hope more of you will join them in helping to make Downtown Medford beautiful and vibrant this spring and summer.
2022 CONTRIBUTORS:
Pacific Retirement Services
Bill Maentz – 5:00 Marketing
Laz Ayala – Acme Building
Brett Jensen – Al's Cycles and Hobbies
Asante Foundation – Sky Oaks Building
Patricia Smullin – California Oregon Broadcasting
Dan and Ann Ebert – Central Art Supply
Chip Wright
City of Medford
Coldwell Banker
Lori Magel – Essentials
Scott Henselman – Henselman Realty and Property Management
Hornecker Cowling, LLP
Bob Cowling, Hornecker Cowling
Lindsay Berryman
Mark and Caprice Moran
Fred and Carol Phelps
Lithia Motors, Inc.
Phyllis Nelson and Alix George – Main Street Market
The Chamber of Medford and Jackson County
Medford Parks and Recreation
Sean Keys – The Merrick
MTN Church
ORW Architecture
Brayden Hitt – Over Easy
People's Bank of Commerce
Steven and Jami Ronda – Rogue City Comics
Rogue Community College
Rogue Disposal
Southern Oregon University
Southern Oregon Historical Society
Andrea Berryman Childreth – Spotlight Marketing
Josh Elbert – State Farm Insurance
The Holly Theater
United Way
Lisa Stanton
Jason Mook
And last, but not least, Tim Elbert of Four Seasons Nursery for planting, hanging, and watering the baskets.