WRECK/RAGE ROOMS and ESCAPE ROOMS present two ways to have fun at CRUNCH TIME.
You can feed your animal instinct and release you inner wrecking ball in their Wreck Rooms. Simply put, you come in, you smash things, you leave happy, and Crunch Time cleans up the mess. Items to be wrecked are procured through estate sales and donations. Some of the items are too good to be wrecked and find their way into Crunch Time's lobby for sale in their "save it from the smash" display.
You can mentally challenge yourself and raise that adrenaline in their Escape Room. Live the life of an infamous detective like Sherlock Holmes, a famous archaeologist, or a super spy! Can you escape before time runs out?
Robin Downward and Rhyon Ingalls
Crunch Time is the inspiration of Robin Downward. If his name sounds familiar to you, Robin was the founder of the Randall Theater and has performed locally in both the Camelot Theater and the Cabaret Theater. He is also the creator of Nightmare Chamber and Nightmare Chamber Slay Ride, local haunted houses and yearly traditions, which appear at Halloween and the holiday season in the building at 10 E Third Street. Robin opened Crunch Time in 2020 to provide people with a different form of entertainment in Downtown Medford.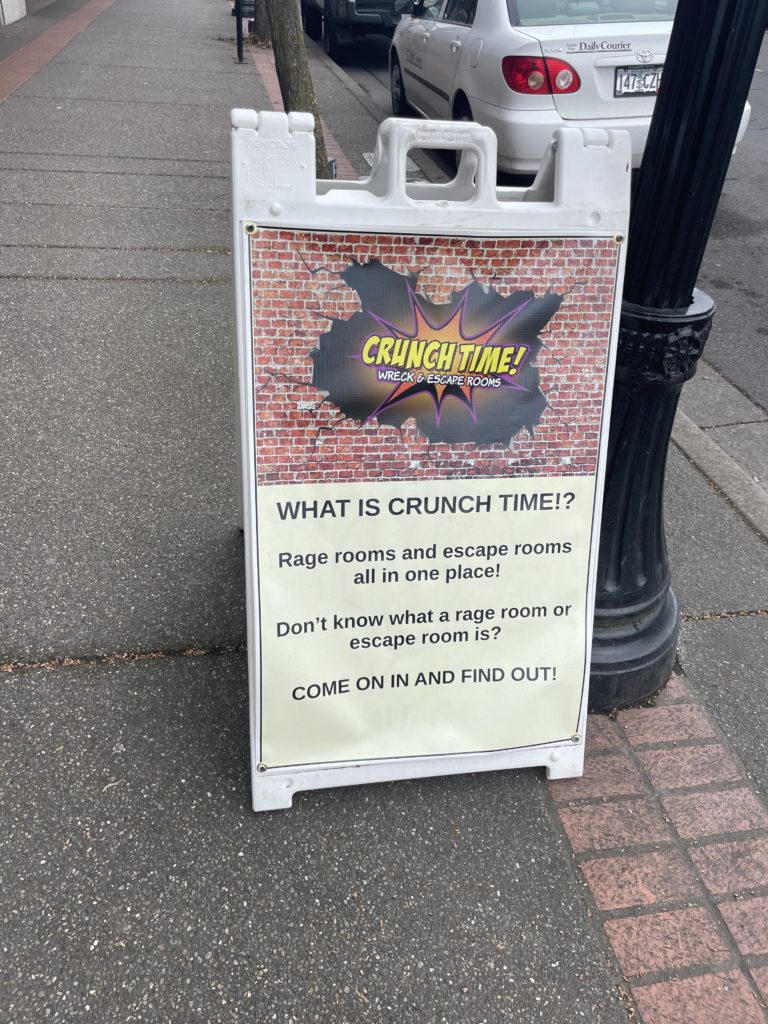 Crunch Time is located at 230 E Main Street. They are open from 11am – 6pm on Wednesdays, Fridays, and Sundays and from 11am – 8pm on Fridays and Saturdays. You can book a session online or by calling 541-816-0319. Walk-ins are welcome, but time is not always available.
Prices range from $30 for an individual wrecking session to $220 for a group of eight people doing an Escape Room experience.